Kate Hise
Executive Director
She, Her, Hers
kate@septemberschool.org
Born and raised in Boulder, Colorado, Kate has a close relationship with the local community and to September School as an alumni. After attending both Fairview High School and September School, she earned her BA from the University of Colorado with focuses on history and education. Kate has strong experience in education and nonprofit roles and is an established member and stakeholder in the community in areas of nonprofit management, education, and advocacy.
Her experience includes 17 years teaching in public and private school settings and nearly 10 years in Director and Executive Leadership positions in education administration and nonprofit settings. Most recently, Kate worked for YWCA Boulder County as a member of the executive leadership team overseeing the YWCA's largest direct service, Education and Family Resources. In this role, she worked closely with the CEO and other members of leadership to create a successful 3-year strategic plan that would elevate programs, find grant streams, and create dynamic fundraising through donor giving, marketing, and events.
Kate also has an extensive background working in partnership with other non-profit agencies in Boulder, especially those that serve vulnerable populations and focus on equity and inclusion. Additionally, Kate has worked on public policy and advocacy issues on both County and State levels to help support education funding, access to services, equitable wages, and fair work conditions. In recognition of her work in this arena, Kate was a Keynote Speaker and Panelist of the 2021 Womxn's Leadership Symposium "Cultivating Growth Through Resistance and Resilience" at the University of Colorado.
Kiri Westby
Interim Principal
She, Her, Hers
kiri@septemberschool.org

Kiri grew up around September School, both as a student in the classroom and as the daughter of our longest running Principal, Brus Westby (1983-2007).  She joined the Board of Directors in May, 2022, bringing with her years of working in the non-profit sector, where she focused her work on the human rights of women and girls in war zones around the world. Last semester, Kiri stepped into the role of Interim Principal and formed trusting relationships with the students, faculty, and families. As we look for our new permanent Principal, Kiri has accepted the Board's offer to once again step into this interim role to help support and sustain our school's leadership. Kiri will also be stepping off the Board of Directors in order to avoid any conflicts of interest. Kiri says she's "looking forward to working with such a dedicated and seasoned group of educators and, more importantly, spending time with the students who make September School the special place it is."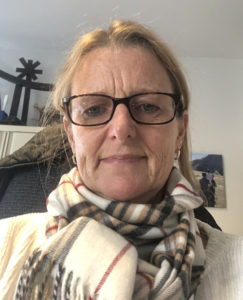 Sarah DeSouza
Director of Admissions
She, Her, Hers
SarahD@septemberschool.org
Sarah has doctoral degree in Education Administration and Policy Studies from George Washington University. She also holds a master of science in Health Fitness Management from American University and a bachelor of Physical and Health Education from the University of Toronto.
Sarah joined the September School staff in 2020 after spending 25 years working as a policy analyst in Colorado municipal government. She is thrilled to be able to follow her passion by joining the incredible staff at September School where she works in administration.
When she is not at school, Sarah loves to ride horses, hike, and spend time with her husband, dogs, and three boys.

Hunter Amabilé
Music and Social Studies Teacher
He, Him, His
hunter@septemberschool.org

Hunter earned his formal education in Journalism and English at the University of Massachusetts at Amherst, however, some of his most valuable lessons in life have come through years of playing music. 
Hunter's important belief: #1 (in no particular order)
"Music is like life, you must practice being a great listener before anything else."
Hunter is a guitarist and songwriter who has been playing in bars, clubs, and theaters for more than 20 years. Since moving to Boulder in 2014, Hunter has worked as the director of a rock climbing and paddle boarding camp, as well as Paraeducator for BVSD. Hunter is excited to bring a unique lens and open heart to each and every student at September School.
Hunter's important belief: #2 (also, no particular order)
"Education isn't about what you learn, it's about learning how you learn."
Outside of school, he writes and records music under the moniker Hunter Stone, which he produces in his home studio in Boulder.

Eitan Fire
Social Studies Teacher
He, Him, His
eitan@septemberschool.org

Eitan earned his undergraduate degree in liberal arts at St. John's College, the nation's third-oldest school. He lived in Israel, where he had the opportunity to solidify his understanding of Hebrew. Eitan pursued his interest in teaching by working first at The Santa Fe Children's Museum and then at a Boys and Girls Club in Portland, Oregon. He gained critical tools to become the best teacher possible by earning his Masters in Teaching at Lewis & Clark College. Since then, Eitan has returned to his hometown of Boulder and spent five years teaching in the public school system including three years in the Boulder Valley School District.
"I strive to ensure that all of my students feel supported and valued by me regardless of where they are in terms of understanding, their values, and/or beliefs. I work with all of my students to help them grow into confident adults and positive role models." —Eitan Fire

Vajra Granelli
Physical Education Teacher
He, Him, His
vajra@septemberschool.org

Vajra Granelli is a highly experienced martial artist, combat sports coach, and high-threat protection specialist with a rich history in the field. With over 40 years of studying martial arts globally, he has accumulated a vast knowledge of various martial arts disciplines.
For 25 years, Vajra has been working as a professional combat sports coach, honing his skills in teaching and training fighters. During his time in the Bay Area, he ran boxing and kickboxing programs specifically tailored for teenagers, imparting his expertise to the next generation of martial artists.
Not only has Vajra been involved in combat sports coaching, but he has also been actively engaged in community service. He volunteered at a kids' summer camp in Colorado for many summers, fostering a positive impact on young individuals.
Moving to Colorado with his family, Vajra opened a small dojo in Boulder, where he continued to teach and share his passion for martial arts. He was also one of the co-founders of the 4 Rings collective, an organization focused on promoting martial arts, wilderness skills, art, and related activities in the community.

Tania Henderson
Art Teacher
She, Her, Hers
tania@septemberschool.org

Tania Henderson received her Bachelor of Fine Arts in Illustration from Rhode Island School of Design and has worked developing herself as a contemporary painter through commissions and exhibitions within the United States. She has also painted alongside musicians, poets and storytellers in the Denver/Boulder area creating abstract oil paintings inspired by the sound and emotion of their work. 
Her love of education developed while her children were in elementary school and after several years of supporting BVSD and SVVSD as a visiting artist and volunteer. During this time she became certified to work with people with brain challenges including: brain injuries, Autism and Dementia while teaching art within the Montessori model.
After 13 years of teaching art to ages 3-103, she is delighted to join September School where she finds a natural curricular fit, being able to teach within a relationship based model that unites its community and truly supports the individual.
She adores being outside in the mountains hiking, backpacking, trail running, painting and snowshoeing always with her sweet four legged love, Lola and some lucky times with her 2 amazing daughters Maya and Leila and her community of friends.   
Aimee Herman-Durica
Music and Writing Teacher
They, Them
aimee@septemberschool.org

Aimee studied at Naropa University, where they earned a BFA in Writing and Poetics. They followed that with an MFA in Creative Writing from Long Island University in Brooklyn with a creative focus on queerness, gender and the body. Aimee has taught writing and literature for over ten years in higher ed, building curriculum and being blown away by the beautiful young minds in every classroom they taught. Their favorite part of teaching is watching students find the writer inside them. 
Aimee is the author of two books of poetry: meant to wake up feeling (great weather for MEDIA) and to go without blinking (BlazeVOX books). Their first novel, Everything Grows, was published in 2019 by Three Rooms Press, and received a Golden Crown Literary Society Award for best young adult debut novel. Aimee is also a performance artist and ukulele player and enjoys creating spaces for others to feel wild and free on stage. Aimee is committed to community service and currently hosts a monthly open mic called Queer Art Organics and co-facilitates a bi-weekly writing workshop called Queer Creatives at Out Boulder County.
In their spare time, Aimee can be found walking their dog, going on hikes, writing poems, embroidering, and writing letters to their many pen pals.
Michelle Merz
Science and Math Teacher
She, Her, Hers
michellemerz@septemberschool.org

Michelle is a self-declared nerd and life-long learner with eclectic interests that took her on a roundabout journey to teaching. Michelle started at Michigan State University and
followed her passion for animals and biology to earn a Bachelor of Science in Zoology with a concentration in Neurobiology and Animal Behavior. Michelle decided that she didn't want to
work in a lab studying effects on animal subjects and got her second degree at Northern Illinois University in Law. After several years of coaching various sports as a hobby, she decided to
turn that interest into a career and moved on to Concordia University to earn a Master's of Education in Curriculum Design in Math and Environmental Science.
Michelle's journey has let her and her four children live in some amazing places. She has been lucky enough to teach in Colorado, California, Hawaii and China. She is a Star Wars fan along with all things Disney. She loves to ski and has recently gotten certified as a scuba diver; she can't wait to go again.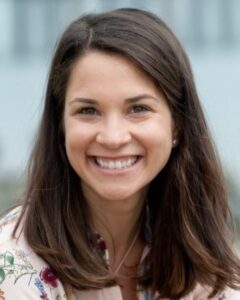 Michelle Mullin
Spanish Teacher and Mind, Body, Wellness
She, Her, Hers
michelle@septemberschool.org

Michelle earned her Masters in Education with a concentration in Spanish from DePaul University in Chicago and her BA in Spanish from John Carroll University.  Throughout her studies, she traveled, worked, and volunteered throughout Mexico, Central America, and Spain.  She looks forward to incorporating her love for travel and culture at September High School.
She has taught Spanish in middle school, high school, and most recently 5 years at DePaul University.  Her personal mission as an educator is to develop traits in students that will carry them beyond their coursework and aid their personal development. Aside from teaching, Michelle enjoys being outdoors with her family and trying new restaurants.
David Weinstein
Lead Middle School Teacher
He, Him, His
david@septemberschool.org

David just finished 25 years of teaching at a public school in the Adams 12 district in Thornton. His work and experience building relationships with students and teaching all content areas will continue here at September School. This and an ability to differentiate instruction and meet each student's academic and social / emotional needs will be a focus of his work in our "one room schoolhouse" middle school model.
David's son spent all four of his high school years at September School and graduated last fall. This provided David the opportunity to participate in and witness the wonder that is September School. He saw first hand the depth of the relationships that were built and the effects that those could have on a young person.
David lives with his wife and son in the Nederland area in a beautiful mountain setting. Having lived in Colorado since 1990, he enjoys the outdoors through walking, hiking, bike riding, playing tennis and fly fishing. He is an avid gardener, always doing his best to make things grow in our alpine environment. He's studied and practiced Qigong and Tai chi as well as meditation and relaxation practices for approximately 20 years.
Angela Beloian 
Newsletter Designer and Special Projects (Art Teacher 2007-2020)
She, Her, Hers
angela@septemberschool.org

Angela Beloian received her Bachelor of Fine Arts in Studio Art from the University of California, Santa Barbara and has exhibited her work throughout the United States. Her paintings are included in public and private collections and her work has been displayed on the exterior of the Performing Arts Complex in Denver, Colo. She served on the Visual Arts Committee for the Dairy Center for the Arts in Boulder and the Teacher Advisory Committee for the Boulder Museum of Contemporary Art. Her involvement in September School includes teaching Studio Art and Yearbook as well as leading students on trips to Santa Fe, Chicago, and Patzcuaro, Mexico. Angela also started our Visiting Artist Program.
"During my 13 years teaching art, it brought me an immense amount of joy and inspiration coaching students in their studio practice." —Angela Beloian