Boulder Summer Schools at September School
Summertime: A Great Season for Exploration
Make the most of summer! Learn new things, challenge how you think, and have a great time with our summer school programs. September School's Boulder summer school program offers a range of topics and subjects to keep teens engaged and on top of graduation credits. For both regular term students and other BVSD students, summer classes at September School offer relationship-based learning and communication for a variety of subjects.
A Wide Range of Subjects at Our Boulder Summer School
While September School modifies summer programs or changes topics to accommodate emerging needs, summer school participants can expect a good selection of subjects and new experiences.
Our Boulder summer school subjects typically include:
Spanish Lab:

Gain foreign languages credits for Spanish including any independent coursework with our instructor.




5 credits of Spanish.
Math Lab: Pursue credits for Mathematics or use the time for independent coursework with our Math instructor.


5 credits of Math.
Art History: A range of topics will be offered such as "landscape" through history including cave paintings and meanings, contemporary art in public spaces, paintings and sculpture, drawing and shading in the Western world, and outlining in the Eastern cultures.


5 credits of Art.
Film and Literature: Explore the differences and similarities of literature and film including understanding how our brain receives, processes, and interprets images.


5 credits of English.
World War II: Examine World War II by exploring the roots of the war, the war itself, and how the aftermath of the war changed the world. Lessons often take place outside and learnings are through reading, writing, discussion, film, and role-playing.


5 credits in the U.S. or World History.
Building a Weather Station: Design, assemble, and install a weather station that will be used at September School and transmit data online.


3 credits of Physical Science.
Programs run about five weeks (except Building a Weather Station, which is shorter) and are scheduled mid-June through the end of July, with no classes during any national holidays.
Boulder Summer School Details
Credits earned during summer school are transferable to area public and private schools. Classes are open to September School students and any other BVSD students. BVSD students interested in attending should verify with their school's guidance counselor that their home school will accept the available academic credits.
Summer classes at September School are $500 each, with a $100 non-refundable deposit due at the time of registration. Students can earn up to a semester's worth of credit! Classes are designed for only 12 students and typically sell out.
Over 40 Years Proudly Serving Boulder Area Students
Since 1973, September School has been one of the most progressive high schools in Boulder, Colorado, providing relationship-based education, learning, and achievement opportunities in academic and personal growth for students in grades 9-12.
We support all kinds of teenagers from our community, including academically gifted, those with learning disabilities, straight, gay, and students of every race and gender. Sometimes students come to us who exhibit boredom, frustration, or bullying. Some are dealing with ADHD, anxiety, depression, or drug abuse. Throughout all these journeys, September School is here to provide an inclusive, welcoming environment that fosters our students' potential and helps them grow. Whether your child deals with one of these issues or is simply seeking to interact with a diverse, lively group in a relationship-based environment, our summer school program brings together education and environment for a fun and fulfilling experience.
Lets Learn, Grow, and Thrive Together
While other high schools in Boulder focus exclusively on academics, September School values social and emotional learning in addition to traditional academic growth. When students are empowered to collaborate, support, and understand themselves and the diversity around them, there is an inherent desire to want to learn. We foster this desire as part of a well-rounded learning and growing experience. As part of a summer school experience, classes at September School can enrich your teen's overall educational participation. We're here to help your child learn and grow!
We're focused on relationship-based learning, centering on diversity and inclusion, responsibility and community, teamwork, and communication. With low student-teacher ratios and student-counselor ratios, we provide one-on-one interaction as much as possible to get to know your child, what they need, and what they can bring to the world. Our goal is to encourage the strengths and talents that are already there while providing the skills and education to help your teenager thrive, both in summer school and in the wider world!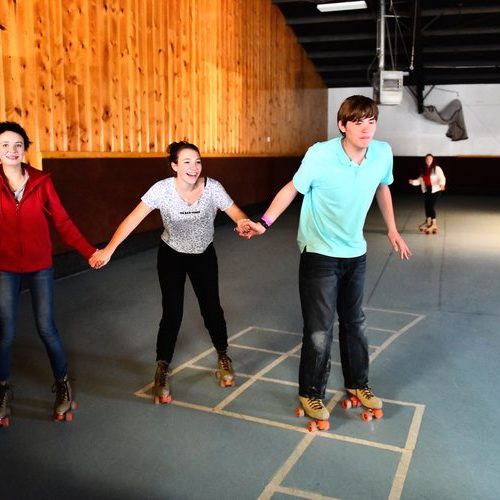 Why Give to September School?
As an independent school, September School operates without financial support from local, state and federal governments. 
Our unique relationship-based education approach means that we maintain very low student: teacher and student: counselor ratios. And, unlike traditional schools, our curriculum takes our students outside the classroom walls and into the world. Our budget is shaped by these needs.
Many families new to private schools are surprised to learn that tuition doesn't cover the full cost of private school education. At September School, only 80-90% of our budget is covered by tuition and fees. We make up the difference with grants and through our fundraising programs, including:
Annual Fund

Community Circle

Capital Campaigns
ANNUAL FUND
The Annual Fund provides unrestricted funds to our school and runs from July 1 to June 30 every year. Our goal is that 100% of September School families pledge to the Annual Fund, in a way and at a level that works for them:
Monthly subscription (recommended monthly amount: $40)
Annual contribution (recommended annual amount: $500)
Your gift of any amount supports the people and programs that make our community so special. When we work together, it all adds up. 
COMMUNITY CIRCLE
Through our Community Circle, you work with us in a more powerful way to build financial sustainability and our continued growth. Community Circle donors pledge to support September School with gifts of $5,000 or more.
Friend ($5000-$9999)
Partner ($10,000 or more)
In recognition of your generosity, Community Circle members receive:
Inclusion of your name on the school's website and in all appropriate fundraising materials
Mention of your name at key school events, including graduation
Invitation to special Community Circle events
For donations of more than $25,000, you may designate a place on our campus to put your name.
CAPITAL CAMPAIGNS
In 2019, we celebrated our 45th year with the completion of Phase 1 of our new campus at 96 Arapahoe in Boulder, CO. Nestled at the mouth of Boulder Canyon, our historically landmarked campus provides extraordinary access to the outdoors, including Boulder Creek and many local trails, as well as to the extended classroom in Boulder and the surrounding area. 
The complete buildout of our new campus will allow us to offer world-class education to our students and expand our enrollment to 80 students. 
Phase 2: renovate the historic barn (next to our primary building) and address interim facilities needs
Phase 3:  Build a new community space 
Your gifts to our Capital Campaign will help us continue this important and timely work.
HOW YOU CAN GIVE--WE'VE MADE IT EASY
Give online--it's fast, safe and secure
Click here to make your gift via Paypal.
Click here to make your gift via Coloradogives.org.
Write a check! Make checks payable to:
September School
ATTN:  [Name of program: Annual Fund, Community Circle or Capital Campaigns]
96 Arapahoe Ave
Boulder, CO 80302
Donate stocks or disbursements from your IRA
You may also make donations to September School in stock or via qualified charitable donations via disbursements from your IRA directly to September School. 
For these types of donations, please consult your tax advisor first and then contact the school directly to make specific arrangements prior to making any transfer.
INCREASE IMPACT THROUGH EMPLOYER MATCHING
Remember, many employers match their employee's gifts to non-profits. You may be able to double or triple the amount September School receives by submitting matching gift forms, and you will receive credit for the total gift!
YOUR GIFTS ARE TAX DEDUCTIBLE
September School is a 501c3 charitable organization. All donations to our school are tax-deductible.
Learn more about giving to September School
If you're interested in helping us re-awaken the love of learning through a financial gift and want to learn more, please contact us at info@septemberschool.org or 303-443-9933.
Take the next step to learn more about September School